If your new year's resolution is to become greener; or if you need a new car in 2017, here is a list of the best low CO2 cars for next year.
If buying a car is not your thing, then check out these lease cars with low CO2 emissions.
BMW i3
When purchasing a BMW, you expect a certain kind of service from your car: incredible. The BMW i3 doesn't differ from this.
Emissions of the car are 12g/km, meaning it will cost you virtually nothing to run and obviously eases the strain on the environment significantly. The car is given a 190-mile range, so the charge will cover most journeys.
Size-speaking, the car is about the same as a Ford Fiesta, but can be compared to the TARDIS – it's bigger on the inside. The spacious interior of the i3 is not something you expect but it's pleasant and makes a comfortable journey for all passengers.
The design of the i3 is quite something, that's for sure. If you're driving around in one, you will most definitely attract attention. It's a Marmite design as you either love it or hate it but we think its contemporary and unusual design make the i3 what it is.
Difference is not a bad thing, so if you don't mind looking like everyone else and have the BMW budget in your wallet, the i3 may be just the car for you.
Toyota Prius
Toyota has had twenty years to perfect its green machines and in the past, they've never been able to get it right. However, the new Toyota Prius seems to have hit the spot.
Its design is bold and striking in any colour and not in the way that you can tell it's a low emissions vehicle. Instead, it looks sleek, elegant and sharp for any driver – we truly love it. Looking on the inside, the Prius is spacious with plenty of boot space too.
With the Prius, you're looking at CO2 emissions of 70g/km which does makes it a god in the petrol-electric hybrid vehicle industry. The claimed economy of 94.3mpg is also something to admire about the Prius, especially when realising you don't actually have to plug it in to achieve it.
This fourth-generation Prius is unlike its predecessors in that its hyper-sensitive responses makes it a beautiful drive. While it's pricier than others in the market, the design makes the extra money worth it.
You may also like: Could The Potential Price Drop For Electric Vehicle Chargers Boost Sales Of Greener Cars?
Nissan Leaf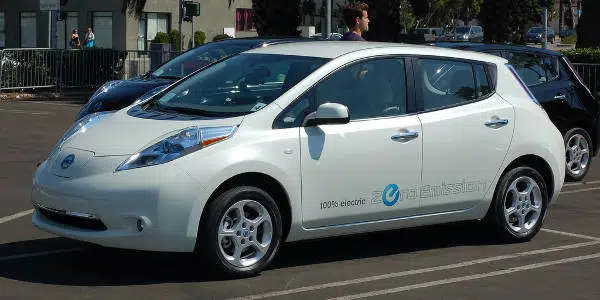 In 2010, the Nissan Leaf transformed the green car movement with its qualities.
Taking a look at the exterior of the Leaf, there are certain giveaways leading the eagle-eyed to spotting its electric drive system. The nose has a flap covering the charging socket and the car as a whole has a certain degree of hi-tech, just hinting at its true nature.
Inside, there is room for five people and the dashboard allows the driver to view and keep a close eye on their electric range. The price is disputable because it can appear to cost you less at face value but in the long-run, you need to be savvy to make sure you're not paying more than what it's worth.
With a 124-mile range, the Leaf is realistically suitable and works for the family. It works only by plugging the battery in to mains electricity and Nissan claims that it should only add around £260 to your yearly electricity bill if charged at night when tariffs are lower.
VW Polo BlueMotion
We all heard about VW's emissions scandal in the news and it appears to have made an impact on the firm: the Polo BlueMotion 1.0 TSI model is a token of that.
With a claimed economy of 68.9mpg and emissions of 94g/km, the Polo BlueMotion is something that does not disappoint. You can't derive its eco-friendliness from the exterior which looks just like your average car, meaning it'll blend in nicely for those who don't enjoy a bold stance.
You won't be paying a fortune for this one either as it is a great value vehicle. Considering its 0-62mph time of 10.5 seconds, casual design yet incredibly compact and efficient, the VW Polo BlueMotion will make a decent green car for the driver.
You may also like: Norway powers ahead with electric cars thanks to generous incentives
Volvo XC90 T8
A large SUV is not something you'd associate usually with green cars. However, the Volvo XC90 T8 is an exception to the assumption and is concrete evidence that large families can work with green cars.
Emissions of 49g/km and a claimed economy of 134.5mpg puts the Volvo up on the same level as the Toyota Yaris hybrid. It also shows off with its unlikely sharpness of 0-62mph in a time of just 5.3 seconds – something nobody expected from such a monster of a car.
You can't really tell that this Volvo conceals an eco-friendly function inside of it as only the T8 badge and charging flap on the side are evidence. We think it's certainly a unique take on the green car movement and one to definitely consider if you're a driver with a family.