As a popular environmental and sustainability website we have tried many different web hosting companies over the past 8 years.
In this short article we set out our analysis of the best green web hosting companies in the market.
For those new to green web hosting, we have also provided a short explanation on what green web hosting is and why we think it is important.
If you already have a hosting company and want to switch to a green web host we have explained how you can easily do this at the end of this article.
We hope this article proves helpful in setting up your website or blog, and wish you all the best for a bright and sustainable online journey.
Quicklinks
Top 5 Best Green Web Hosting Companies
We reviewed 5 green web hosting companies to compare and contrast their credentials, pricing and web server performance. Below is a side-by-side comparison and ranking of the 5 sites we reviewed. We have provided a detailed review of each host below this table.
Rank
Company Name
Special Price
Main Features
Our Rating
1.
GreenGeeks
$3.95 per month
$9.95 per month
Unlimited Everything
FREE Domain Name
Free Migration and loads more
300% Green Energy

9.5

2.
Kualo Hosting
£2.49 per month
£4.99 per month
Unlimited Web Space
FREE Domain Name
Speedy Servers

9.0

3.
Dreamhost
$7.95 per month
FREE Domain Name
Special WordPress Hosting
1-Click Install

9.0

4.
Hostpapa
$3.95 per month
$9.95 per month
Unlimited Web Space
FREE Domain Name
Enhanced Security

8.5

5.
Fat Cow
$6.95 per month
FREE Domain Name
Expert Support
Special WordPress Hosting

8.0

For us, GreenGeeks have set the bar three times higher than their closest competitors in the green web hosting industry. How?
Well, unlike many of their competitors who have worthy claims for offsetting 100% of their energy consumption with renewable power, GreenGeeks purchase three times the amount of renewable energy for every one unit of power that they consume. Yes, GreenGeeks are a 300% wind powered web-hosting company! Read our full GreenGeeks review.
Their green story is truly inspiring and was one of the reasons we switched to them back in 2013. Here are some of the things that we have come to appreciate with GreenGeeks, and which we believe set GreenGeeks apart from the other hosting companies we have used in the past.
They have a truly superb and admirable green web hosting track record – unlike many hosting companies that talk a big sustainability game, GreenGeeks have real sustainability chops. The company is green by design with advance energy conservation programmes setup for their operation
They are an EPA Green Power Partner
They have a very affordable service compared to alternative suppliers – shared hosting starts at $3.95 per month
Their geographic coverage is good. According to their website they serve customers from over 150 countries. We can only speak for their coverage in US, UK, Europe and Australia, which are all excellent
If you are looking to actively promote the green credentials of your website they provide great marketing collateral that you can use (see badge below)
All their web hosting packages are comprehensive with unlimited web space, bandwidth, domains, email accounts and databases
Most importantly for us, they offer 24 hour support, 7 days a week, 365 days a year; and in our time with them we have yet to have any downtime. They claim a 99.9% uptime guarantee and we believe them
We, like most of the internet, run WordPress as our CMS platform. GreenGeeks offer a super easy 1-click WordPress install functionality – you really need no technical knowledge to get setup with GreenGeeks
Free site migration and starter pack for new sites – this is great if you already host elsewhere. GreenGeeks will migrate your site for FREE
They also offer a 30 day money back guarantee with no hidden costs
GreenGeeks offer their customers a wide assortment of badges and tags that are super easy to place on your website or company stationary and provide a great way to spread the message of what you are doing to go green at work! You can see all of their badges here.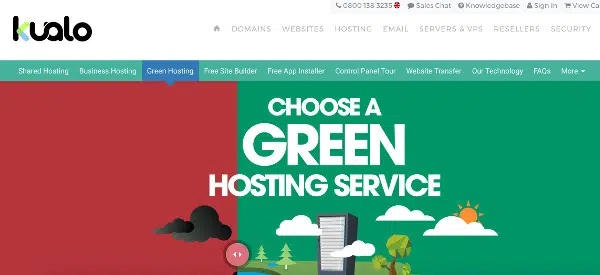 Kualo take their environmental responsibility seriously. But here's the great thing, they see their environmental responsibility as just a natural part of doing business right. That's why you have to dig pretty hard to uncover their green credentials – they are just baked into their service.
Kualo are 100% powered by renewable energy, sourced by Scottish Power. This makes them a great green hosting option for people based in the United Kingdom. Kualo also boast really energy efficient data centres in the United Kingdom, no offshoring or outsourcing!
We like Kualo as they are a credible and reliable UK hosting company, with a great green mission!
Check out their green web hosting options here.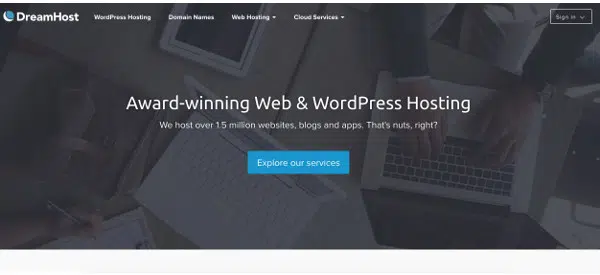 We like Dreamhost as they take a very holistic approach to providing a green web hosting service. Dreamhost have analysed and measured their impact on the environment, taking into account the energy it takes to power and cool their servers, their office energy use, paper and resource usage and waste issues. They have even looked at the impact of their staff commutes.
Using this data they have designed a green service that tries to minimise their impacts. To this end, Dreamhost invest in renewable projects around the world as a means of offsetting their carbon footprint. The company is certified carbon neutral and actively campaigns for a move to renewable energy by putting money where their mouth is.
In addition to being carbon neutral, Dreamhost have also addressed all the small wins, like implementing energy efficient lighting in their office, introducing a recycling regime and duplex printing.
Check out their web hosting options here.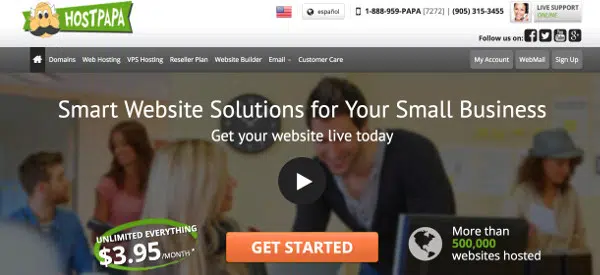 Hostpapa were one of the first green web hosting companies to enter the market. Their entire service is powered by renewable energy purchased on the open market (i.e. they purchase and retire green energy certificates).
Over the last few years Hostpapa have down played their green credentials, for reasons unbeknown to us, but from speaking with their customer service teams we have confirmed that the company is still fully committed to providing a green web hosting service.
In addition to their green credentials, Hostpapa have a great reputation as being one of the best web hosting companies in the world. Their service consistently receives good customer reviews and you can be pretty sure that your website will be safe and secure on their servers.
Check out their web hosting options here.

We've been a fan of Fat Cow for many years now. The company was originally founded in 1998, with the vision of providing a easy-to-understand, no-fluff, green web hosting service. In recent times they have doubled down on the easy-to-understand, no-fluff side of things, offering a really great web hosting service for WordPress bloggers; however, their green credentials seem to have fallen by the way side. That's not to say that they are not a credible green web host anymore; they just don't seem to sing their green message much any more.
We contacted them to find out what the story is regarding their green mission. According to the customer sales rep we spoke to, Fat Cow still power their servers from renewable energy bought on the open market. The corroboration we could find for this fact was a press release from 2009.
But on face value, we were happy to take them at their word.
Fat Cow are a reliable web host offering all the standard features that one would expect from a global hosting company.
Check out their web hosting options here.
What is Green Web Hosting?
All websites are hosted on data servers that are usually owned by hosting companies.
In short, a website owner (i.e. you) pays a hosting company to host your website on a data server.
Data servers are huge energy consumers as they need lots of power to ensure 100% up-time and most importantly need to be kept cool at all times.
This means that most data servers are powered off the grid using the energy mix that goes into making up a regions energy supply – most energy mixes are predominately fuelled by greenhouse gas emitting fossil fuels. Exceptions would be France where most of the energy on the grid is generated through nuclear power.
The best green web hosting companies use energy off the grid to power their data servers, and then purchase 100% renewable energy to put back onto the grid. They do this through purchasing Renewable Energy Certificates (RECs) that certify energy as being generated using renewable sources.
In doing this green web hosting companies are effectively offsetting their energy consumption with 100% renewable energy, and in the long term are encouraging the adoption and economic scaling of renewables onto the energy market.
The benefit of green web hosting if you are environmentally conscious is significant as real savings in indirect carbon emissions are immediately made.
Moreover the marketing kudos of being able to confidently say that you power your website through renewable energy hosting is great, especially if you are a green business.
How to Switch to a Green Web Hosting Company?
If you already have a hosting package, then switching to green web hosting is a recommended green initiative as it is a relatively simple and cost way to go green.
Here are the 5 steps you should know. Please note: GreenGeeks is one of the only companies we know of who will do all the work to help you switch hosts, for FREE!
Step 1
Decide on your preferred new host and join their service. Do not cancel with your existing provider and do not tell them about your intentions to switch as they can prematurely terminate your site which would result in downtime.
Step 2
You will now have two hosting accounts – a new one and an old one. The task here is slightly technical but your IT support will easily be able to do this. You need to migrate your entire site from the old host to the new one. This is done by downloading all your files via FTP on your old host and uploading via FTP to you new host – maintaining the file and folder structure.
Step 3
Backup your databases on your old host and upload via FTP to your new host.
Step 4
You now have all you files on both hosting providers. The task now is to change the domain name DNS settings. Your new host will provide you with the DNS settings and all you need to do is tell the company where your domain name is registered to change to the settings provided by your new hosting company.
The change takes 48 hours. During this time your site will be loading randomly from your old and new hosting provider. After 48 hours your site will be loading exclusively from your new provider
Step 5
Call your old host and cancel your service.
You are now fully hosted with a green web hosting company.
We highly recommend you use your IT support to make the switch if you are not comfortable with the details above.
Tags: Best Green Web Hosting, Green Hosting, Green Web Hosting, Green Web Hosting Companies, Green Web Hosting Reviews, GreenGeeks, Hosting Impacts on Environment